Use this Go Live Walkthrough document to quickly get your RetentionEngine live on your site.
Make sure you've already created your account!
This step-by-step guide is to help you after you've created your account and selected your billing plan. Still need to create your accunt? Sign up here!
Build your RetentionEngine
Step 1: Create New Engine
Once you've got your account created, you can get started creating your RetentionEngine!
Navigate to https://app.bellwethr.com/offboards/ and select the "Create New Engine" button.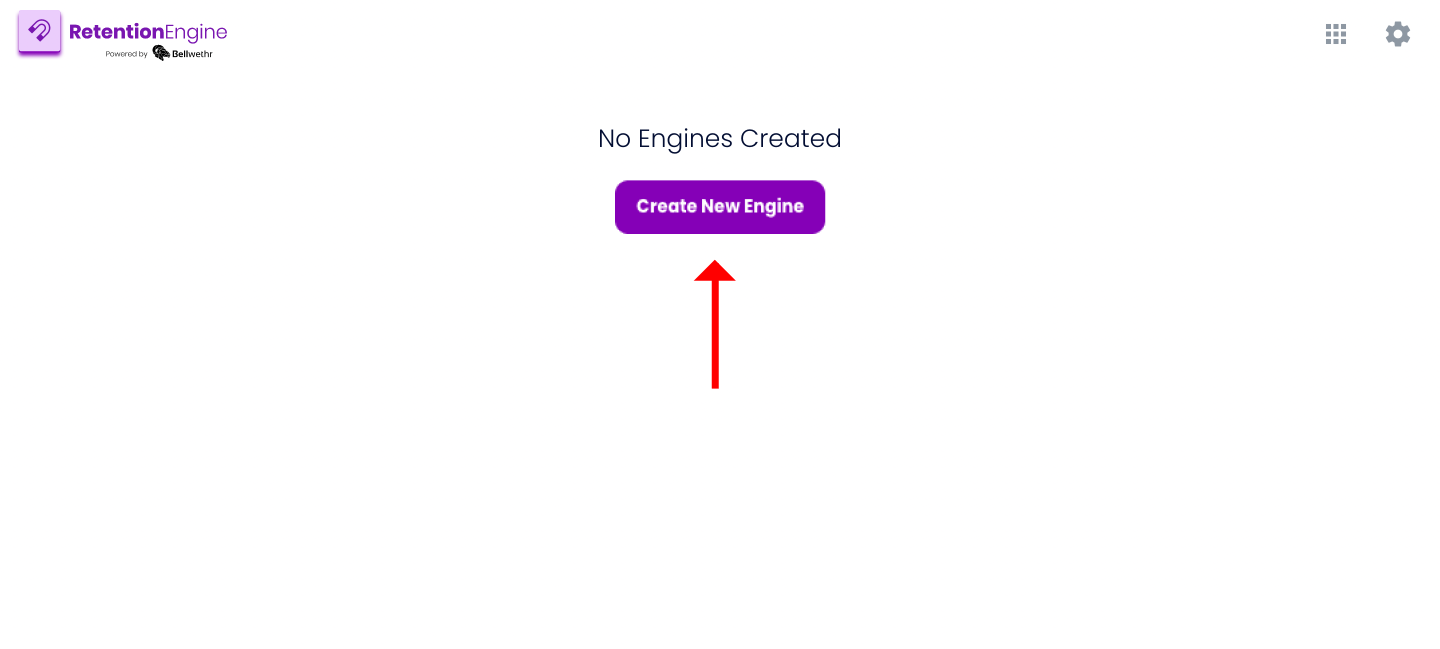 Step 2: Redirect URL
You'll then be asked for your Redirect URL. Just input your website homepage here (e.g. https://www.bellwethr.com/) unless you have a specific page you'd like your customers to go after they've gone through RetentionEngine.

Step 3: Integration/API Key
Select your Subscription Platform from the options below. You'll then see a pop up asking for your API Key. This is what connects RetentionEngine to your subscription platform.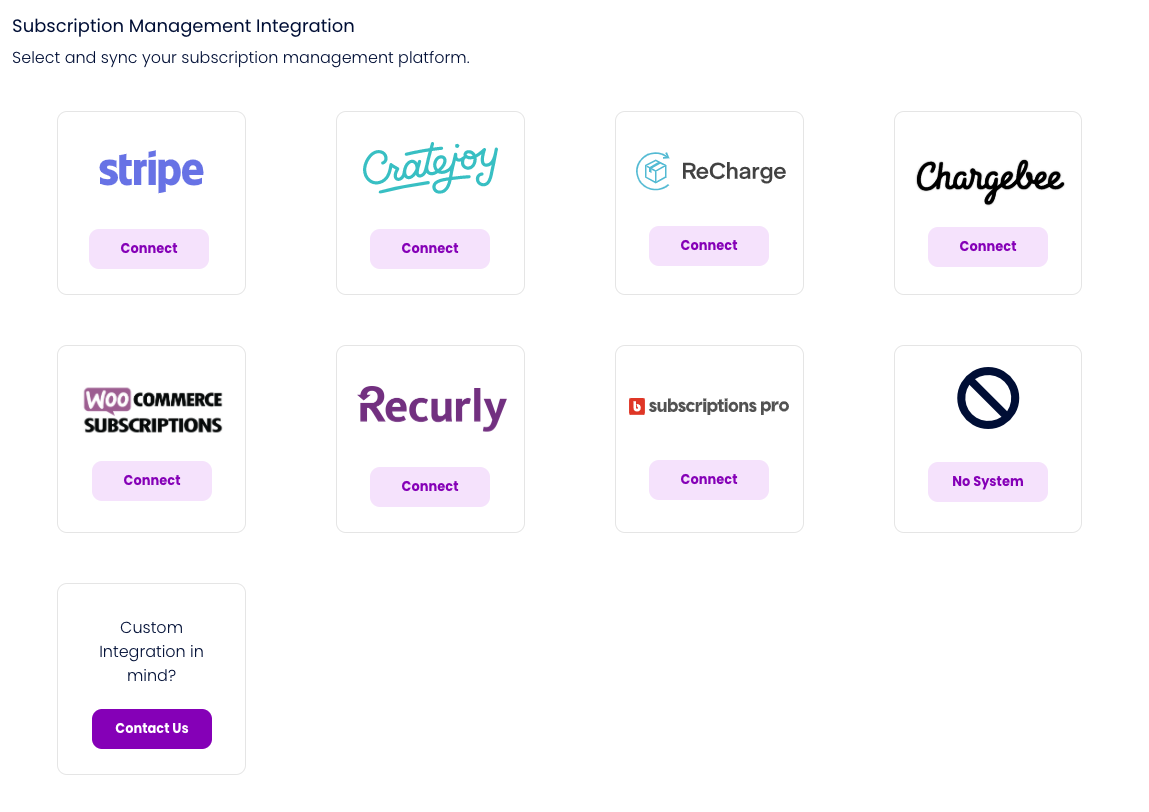 After selecting your subscription platform, you will need to locate your API Key and paste it here.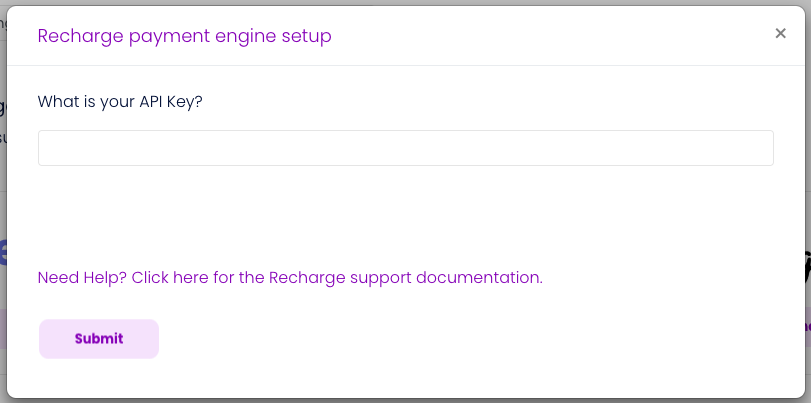 Here are instructions to locate the API Key for each integration:
If you select "No System" then you will be creating a Manual Engine. You will not need to enter an API Key.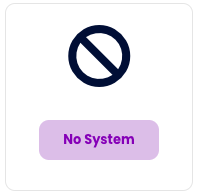 Create a Manual Engine if you do not use a subscription platform, or if your platofrm is not supported. Learn more about Manual Engines here
Step 4: Go to your Dashboard
After those two steps, you're done with this first section! Scroll down and select "Proceed to Dashboard" in the bottom left hand corner.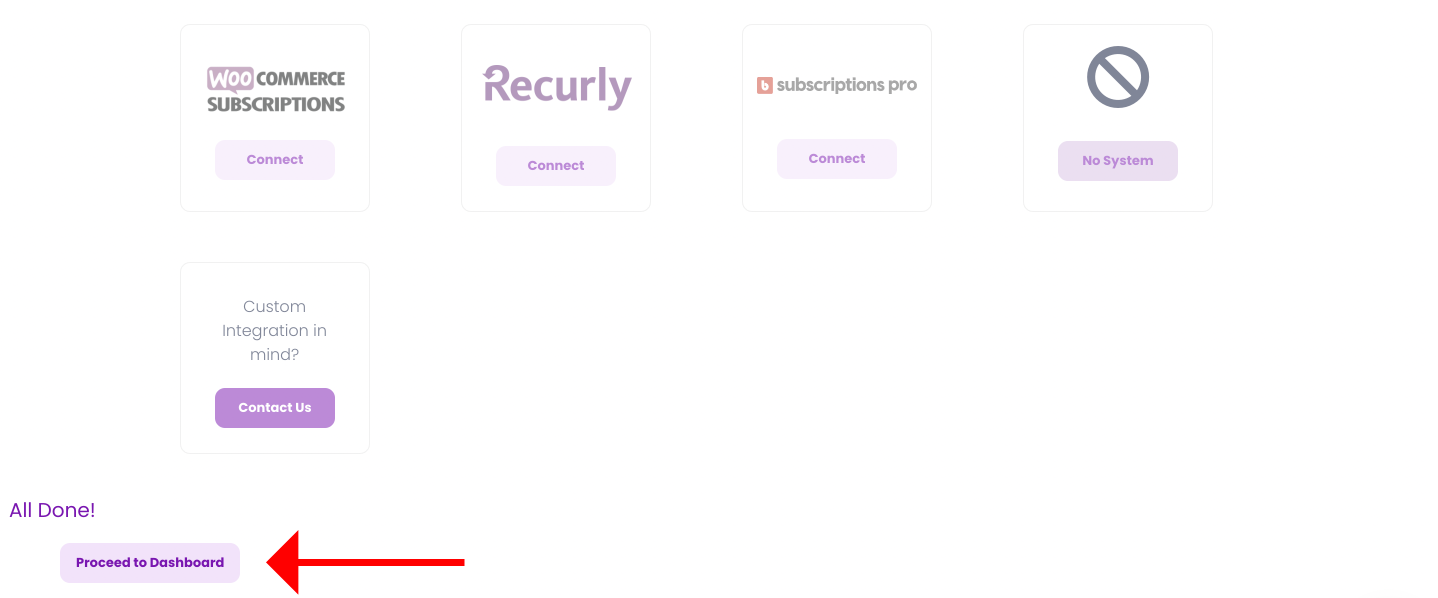 Customize your RetentionEngine
Now that you're in your RetentionEngine Dashboard, you can start customizing your cancel flow before you make it live.
This might look overwhelming at first, but for this quick set-up we'll onlybe looking at these 5 tabs:
Exit Survey
Cancel Resolutions
Pause Options
Style Editor
Settings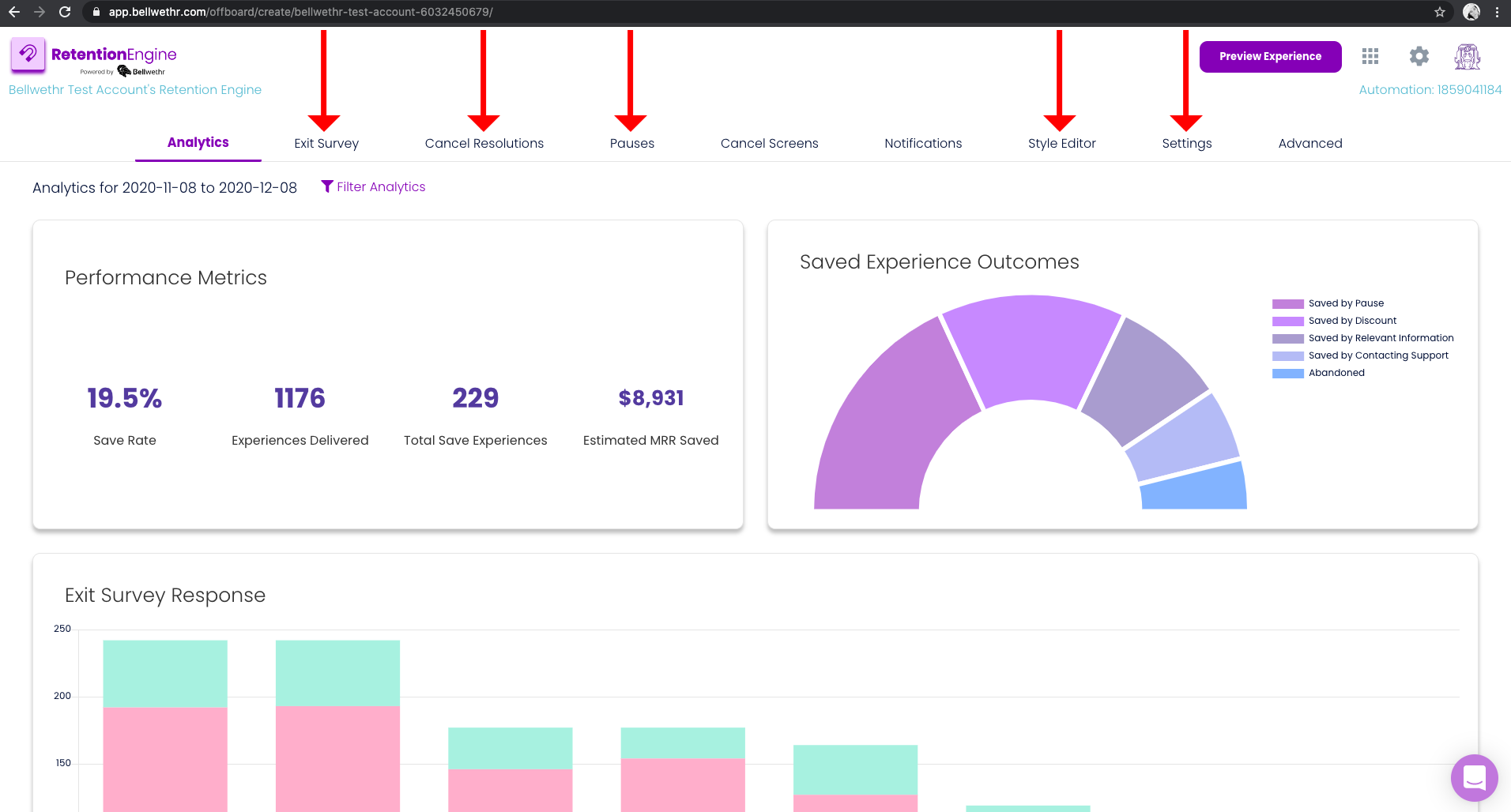 Helpful Tip:
As you're customizing your RetentionEngine, you can preview your work at anytime by selecting the "Preview Experience" in the top right corner of the RetentionEngine dashboard. This experience is simply for testing and does not affect your analytics.
Step 1: Exit Survey
Let's start by setting up your Exit Survey. The Exit Survey is the first screen of the cancel flow.
Here is what the Exit Survey looks like to your customers: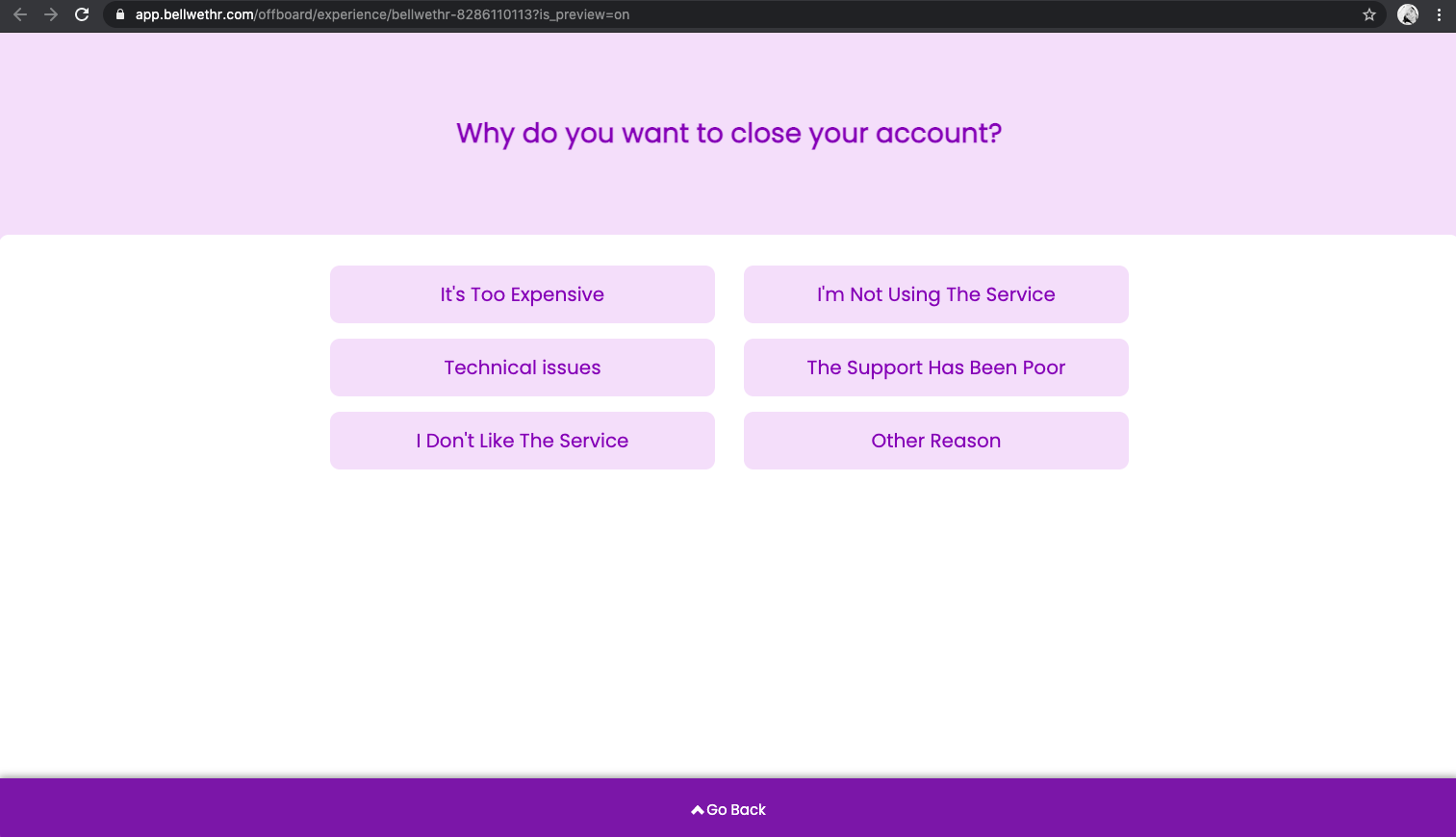 For this quick set-up, you only need to look at two fields:
Changing the Exit Survey Header
Customizing your Exit Survey Responses
1. Changing the Header
You may want to edit the Exit Survey Header Question to better fit your busines/brand voice. You'll do that now.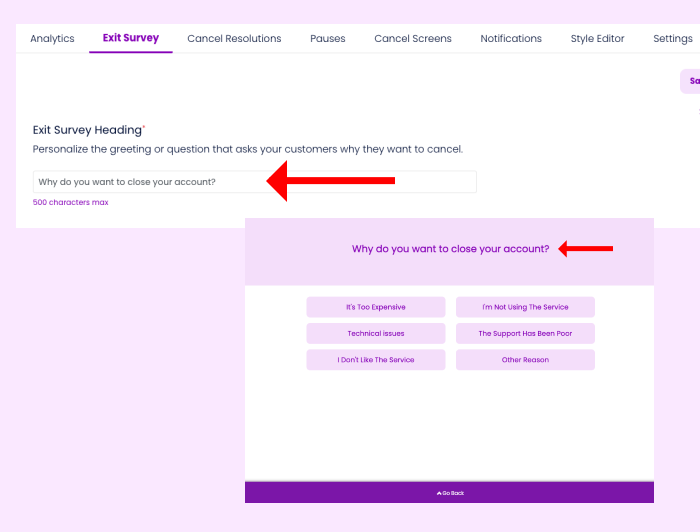 2. Customize your Exit Survey Responses
Feel free to just transfer over responses from your current Exit Survey. If this is your first cancel flow, we recommend starting with the most common reasons you see your customers cancel. You can have 3-10 options active at once.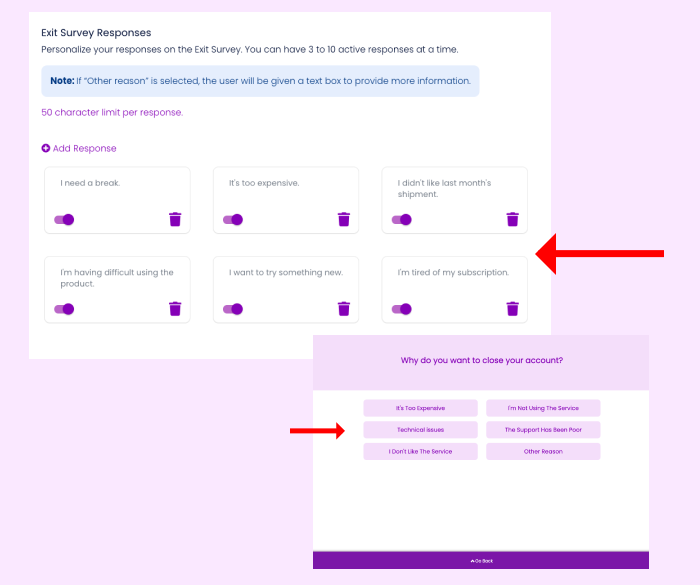 Once you're done here, "Save Changes" in the top right corner, and your Exit Survey is good to go!
Already thinking of adding Conditional Logic?
Hang in there! We will cover setting up conditional logic in the next section. This is configured in the Cancel Resolution tab.
For help configuring the additional Exit Survey fields, take a
look at our Exit Survey Overview.
Step 2: Cancel Resolutions
After the Exit Survey, the next step in the cancel flow is the Cancel Resolution. You can create and edit Cancel Resolutions under the "Cancel Resolutions" tab in your dashboard.
Here is what a Cancel Resolution Screen looks like to your customers: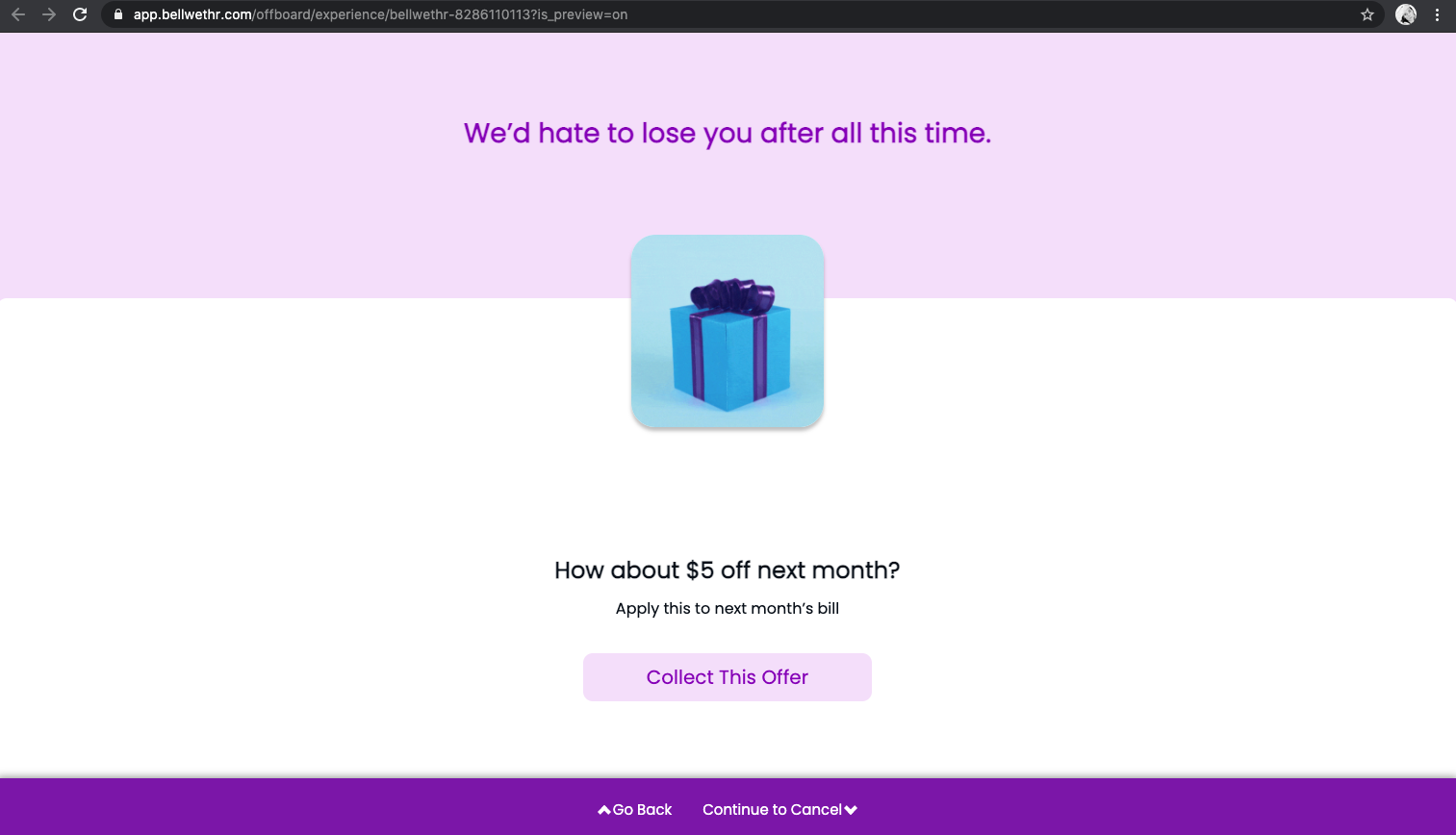 Your customer will only see one Cancel Resolution per cancel experience based on our algorithm's sampling logic (similar to A/B testing), or conditional logic that you can set up based on their Exit Survey Response.
Types of Cancel Resolutions
Discounts ($ or %)
Gifts
Relevant Information
Contact Customer Support
Product Swap (available on ReCharge and Chargebee integrations)
We recommend completing the following for this quick set up section:
Creating Cancel Resolutions
Conditional Logic Overview
1. Creating Cancel Resolutions
We recommend just turning on 2-3 discounts during this initial set up to keep things simple. It's great to experiment with all of the different types of Cancel Resolutions.
You can learn more about Cancel Resolutions here.
2. Quick Conditional Logic Overview
Conditional Logic is set by the individual Cancel Resolution and is set based on the Exit Survey response. For example, if a customer selects "I don't like the product" or "My shipment is late," then you'll likely want to send them directly to the Contact Support resolution.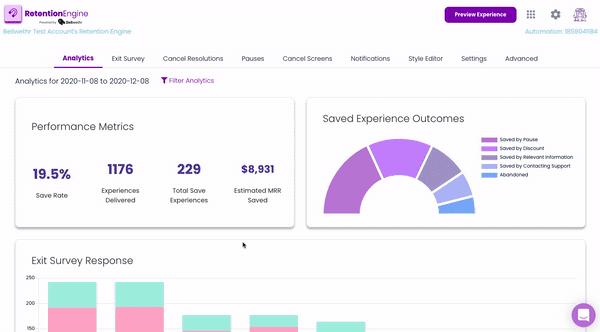 We recommend waiting until you have a good idea of what your Exit Survey Responses and Cancel Resolutions will be before you begin setting up Conditional or Contextual logic.
Ready to set up Conditional/Contextual Logic?
Step 3: Pause Options
Pause Options are the third step in the RetentionEngine cancel flow. Go to the "Pauses" tab in the dashboard to configure your pause options.
Here is what the Pause Option screen looks like to your customers: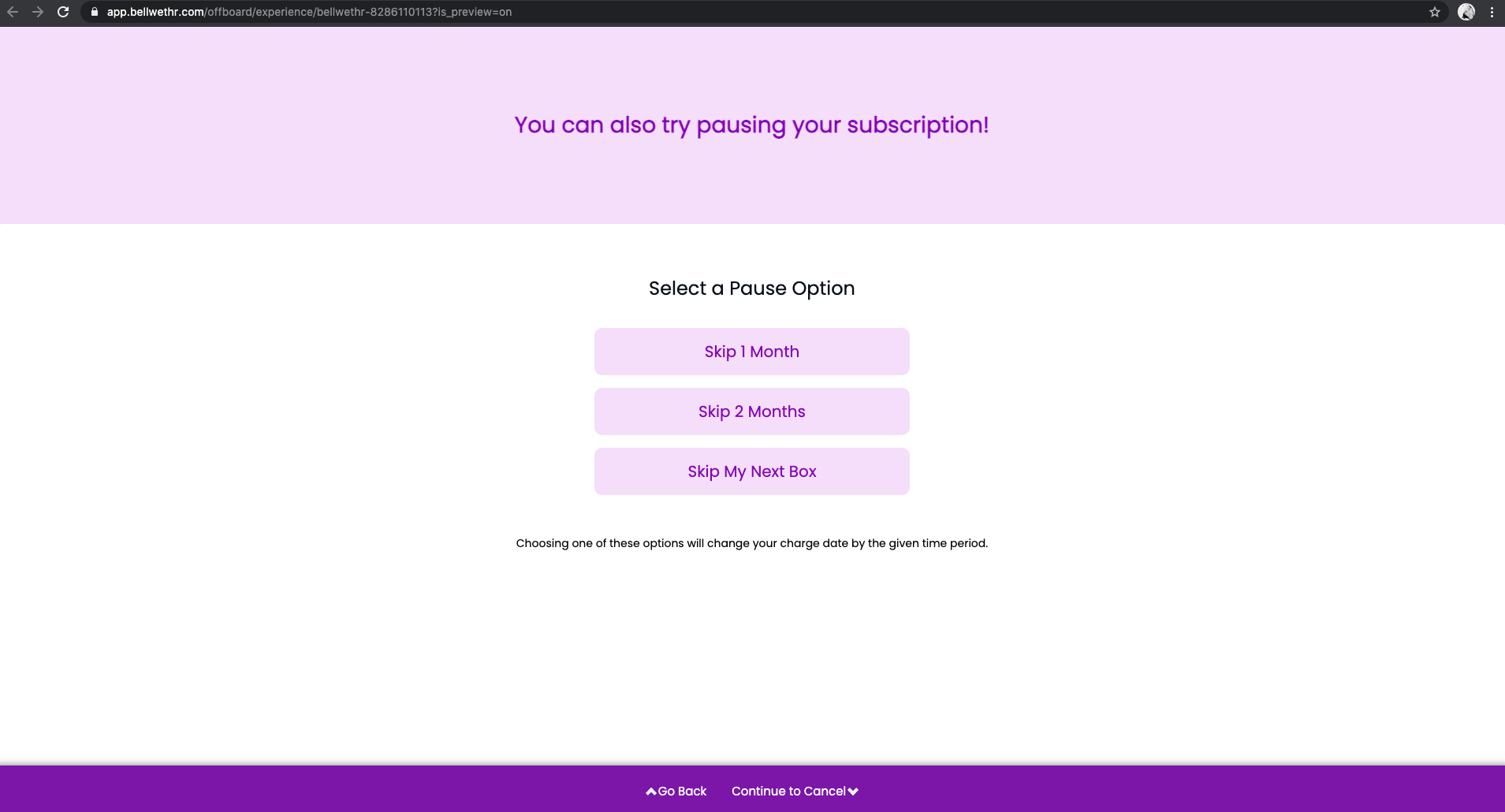 1. Configure Pause Options
We currently offer three pause options (1, 2, or 3 months). You can simply select which options you want live using the toggle button.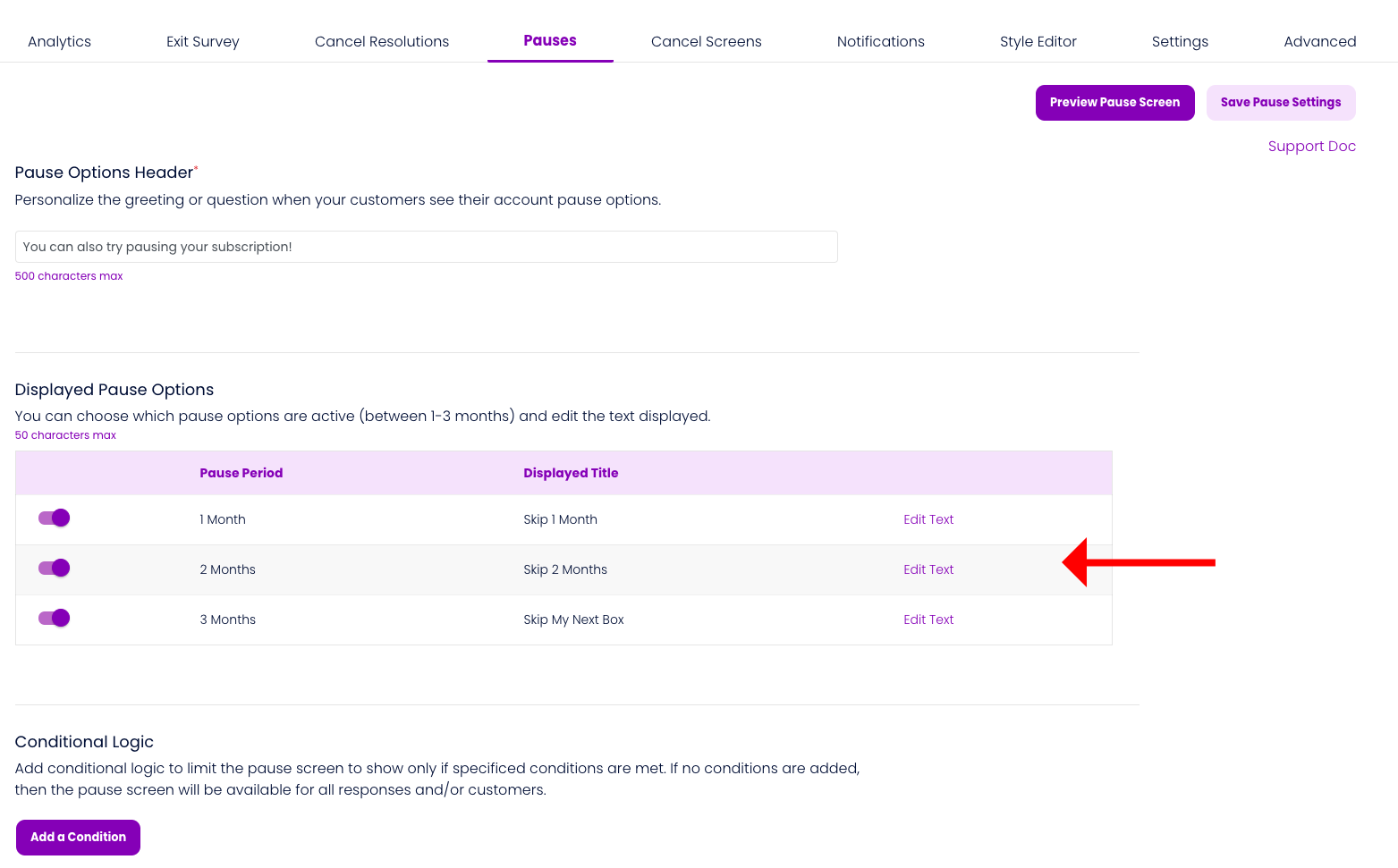 Once you've completed this step, your Pause Options are good to go!
Step 4: Style Editor
Now that your basic RetentionEngine flow is set up, you can know customize the actual design. Under the "Style Editor" tab, add your logo, customize the font and set the colors for your RetentionEngine.
Here is what the default design looks like: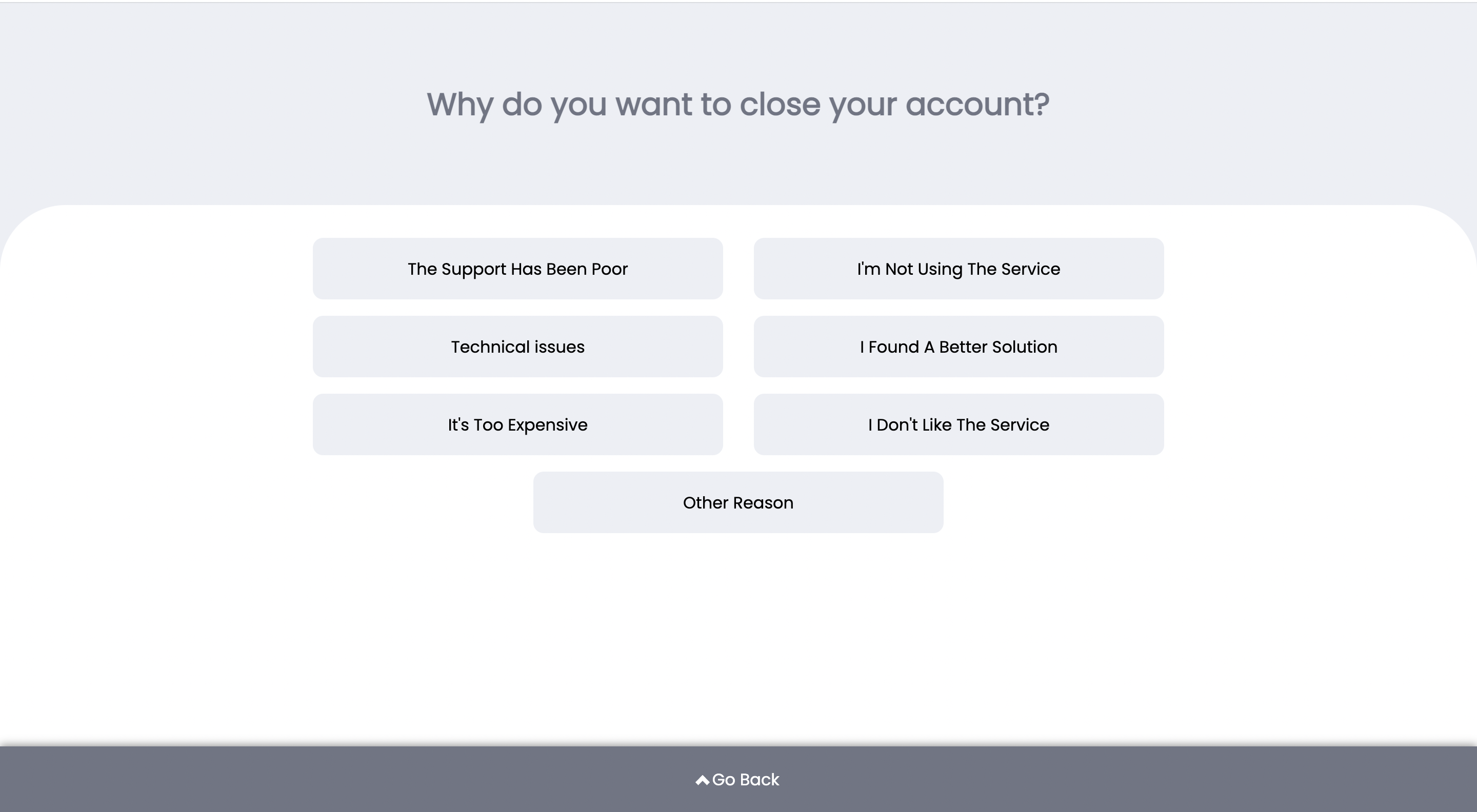 For the quickest set up, just do the following:
Select your font

Add a Primary and Secondary color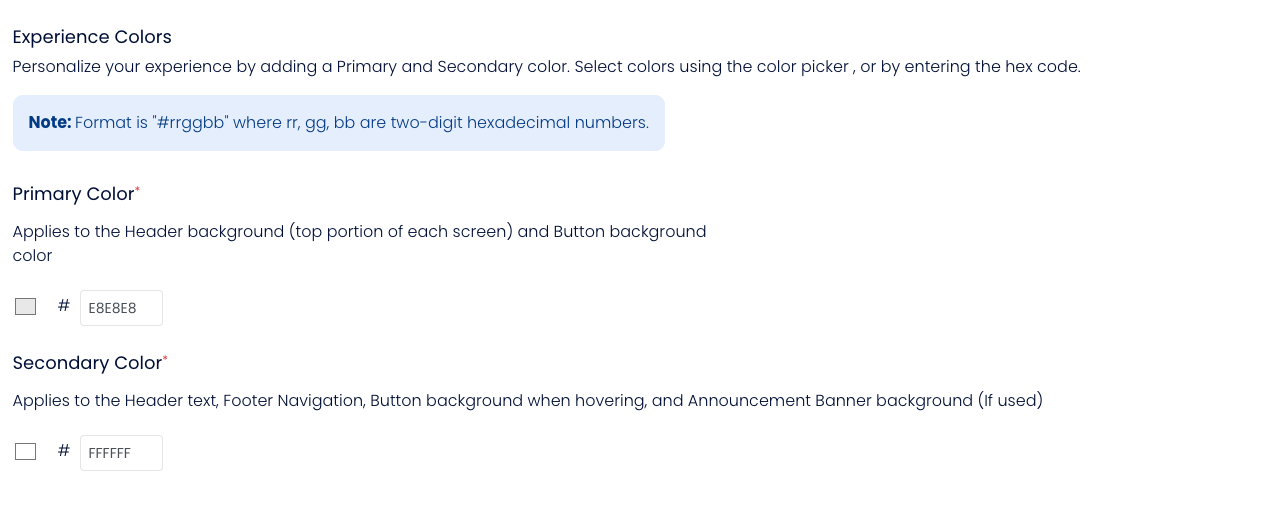 Curious about all the styling possibilities?
Install on your Site
If you've completed all of the steps above, you're now ready to install RetentionEngine to your live site!
Step 1: Copy Code Snippet from Settings Tab
To make RetentionEngine live on your site, you will now need to copy and paste the RetentionEngine code snippet into your site theme.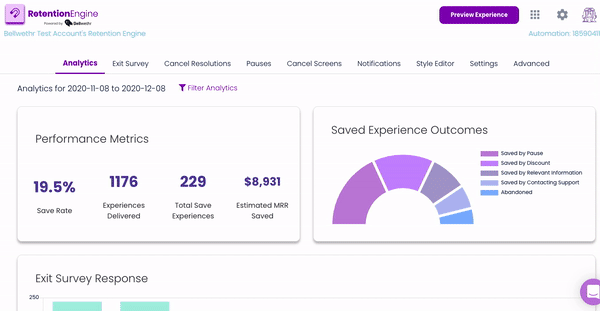 Locate the Code Snippet under the "Settings" Tab in the dashboard and copy it to your clipboard.
Step 2: Paste into Shopify Theme/Website
Now, use the following instructions on how/where to paste the Code Snippet for each integration:
Step 3: Test your Installation
To make sure your RetentionEngine is installed correctly, we recommend creating a test subscription from your store (if you don't already have one).
You can do create a test account by creating a 100% off, non-recurring coupon in your subscription management platform. Then, go through the normal customer sign-up process using the coupon you created. After you've become an active subscriber, go through the cancelation process and make sure RetentionEngine works as intended.
For more on testing, including how to use active subscriptions to test, check out this article.
Additional Configuration
Congratulations! After you've completed the steps above, your RetentionEngine should now be live on your site.
Now that you've got the basic set up of RetentionEngine live, you can continue to customize and configure your settings in the RetentionEngine dashboard!
We now recommend taking a look at the rest of our support docs as well as doing the following:
Was This Article Helpful?
---