Cancel Resolutions Overview
---
Share feedback
Thanks for sharing your feedback!
This article is a brief overview of the Treatments and how to get started.
---
Experimentation is Key
A key advantage of RetentionEngine is that it is powered by artificial intelligence. You don't have to know the optimal offer to show customers - that's what reinforcement learning is for.
Our optimization algorithm will do a spread of your different offers but will give a slight preference to ones that perform better over time. That way we'll optimize for saves, but still, explore a bit when you add a new offer later.
Over time, you'll be able to see the performance of each Treatment under the "Exit Survey Tab" section in your Dashboard.
Keep the variables to a minimum in the beginning
Unless you already have a specific resolution in mind for each cancellation reason, we recommend starting general and creating 3-5 Treatments that are not restricted by cancellation reason.
In the beginning, keep the variables to a minimum. This will provide a fair test, and you'll know what to iterate on moving forward. After ~1000 experiences or a month, you can evaluate what's working and test on a new variable.
For example, give a sneak peek of next month's box and test a few different discounts and one without a discount. Keep the image and messaging consistent.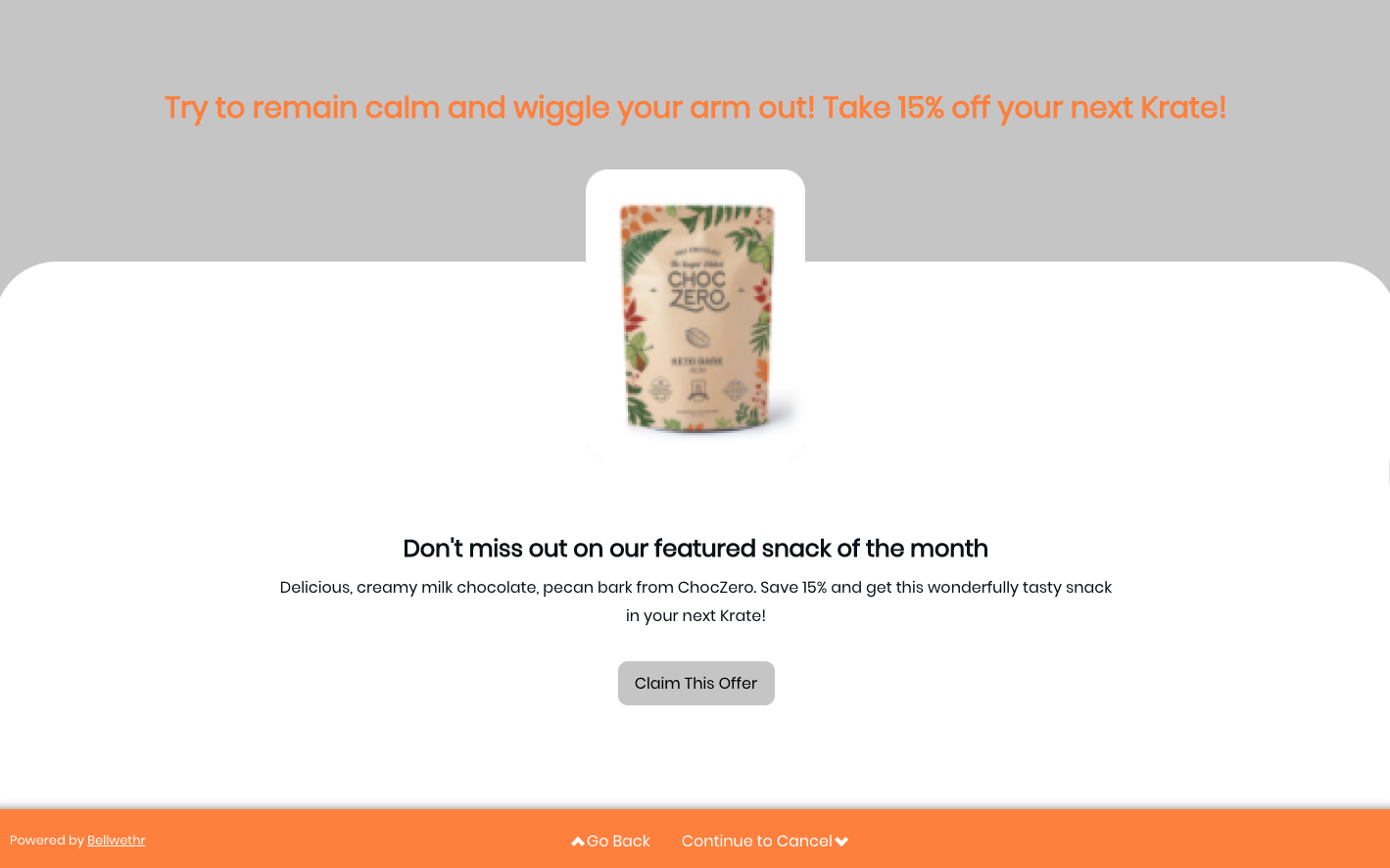 Alternatively, try offering a gift and test a few different gifts.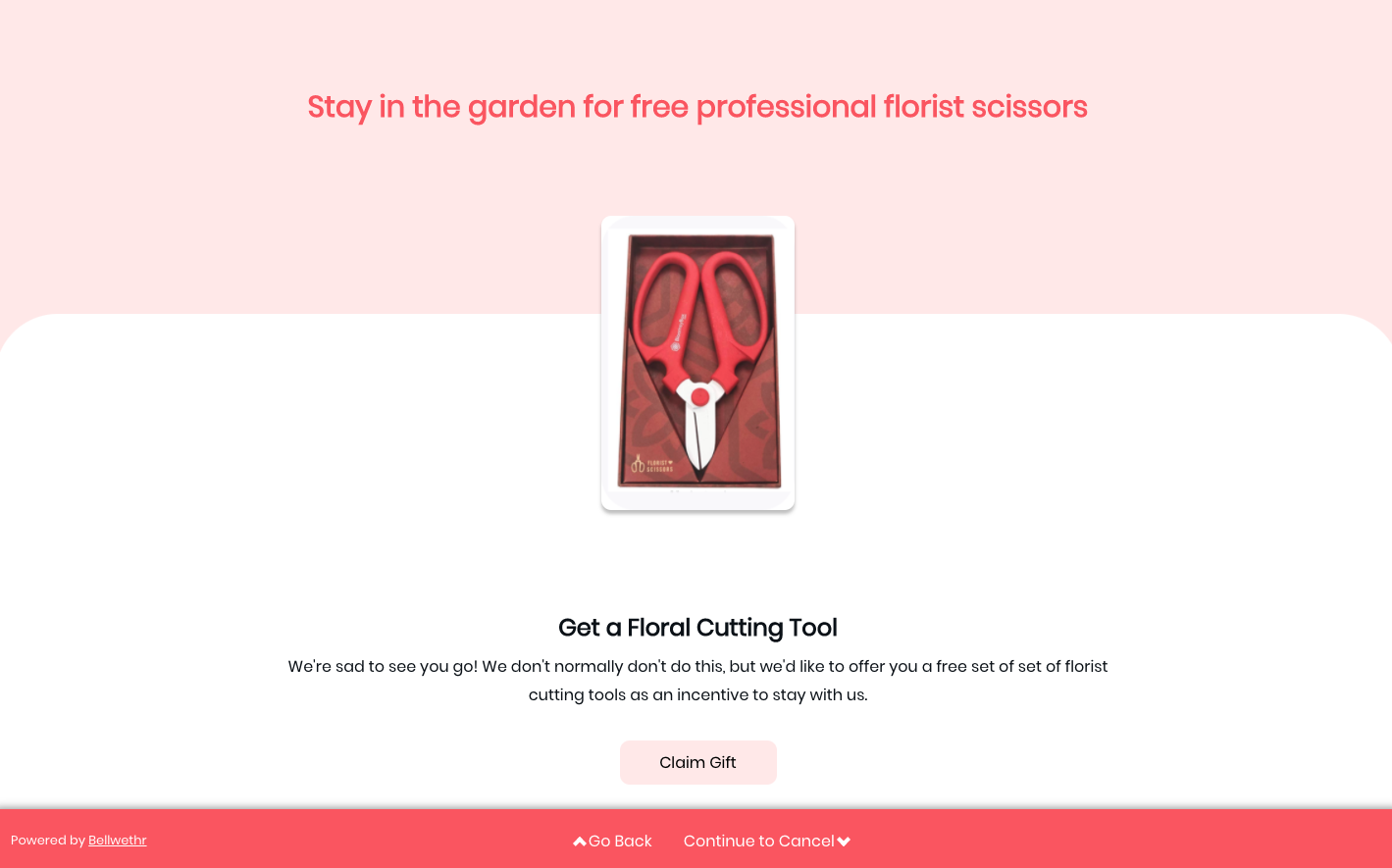 Treatment Fields
Each treatment has the following fields:
Header (optional)
Displayed Title (This is used on the offer and as the internal name in your analytics section.)
Image/Video/Gif (optional)
Description
Button
You can edit the font, font size, and image size in the style editor.
Treatment Spotlight
If you include an image, this will be in the rectangular spotlight. If not, the "Displayed Title" will be in the spotlight. See the example below.
Image
We accept PNG, SVG, JPG/JPEG and GIF formats. The max height is 300 px, the corresponding max width is 500 px. If you upload an image beyond the max image height or width that you have set, the image will be scaled accordingly.

Connecting Treatments to Exit Survey Responses
When creating a treatment you can select which exit survey responses you would like it linked to. This can be done on the edit page for individual offers, as shown below.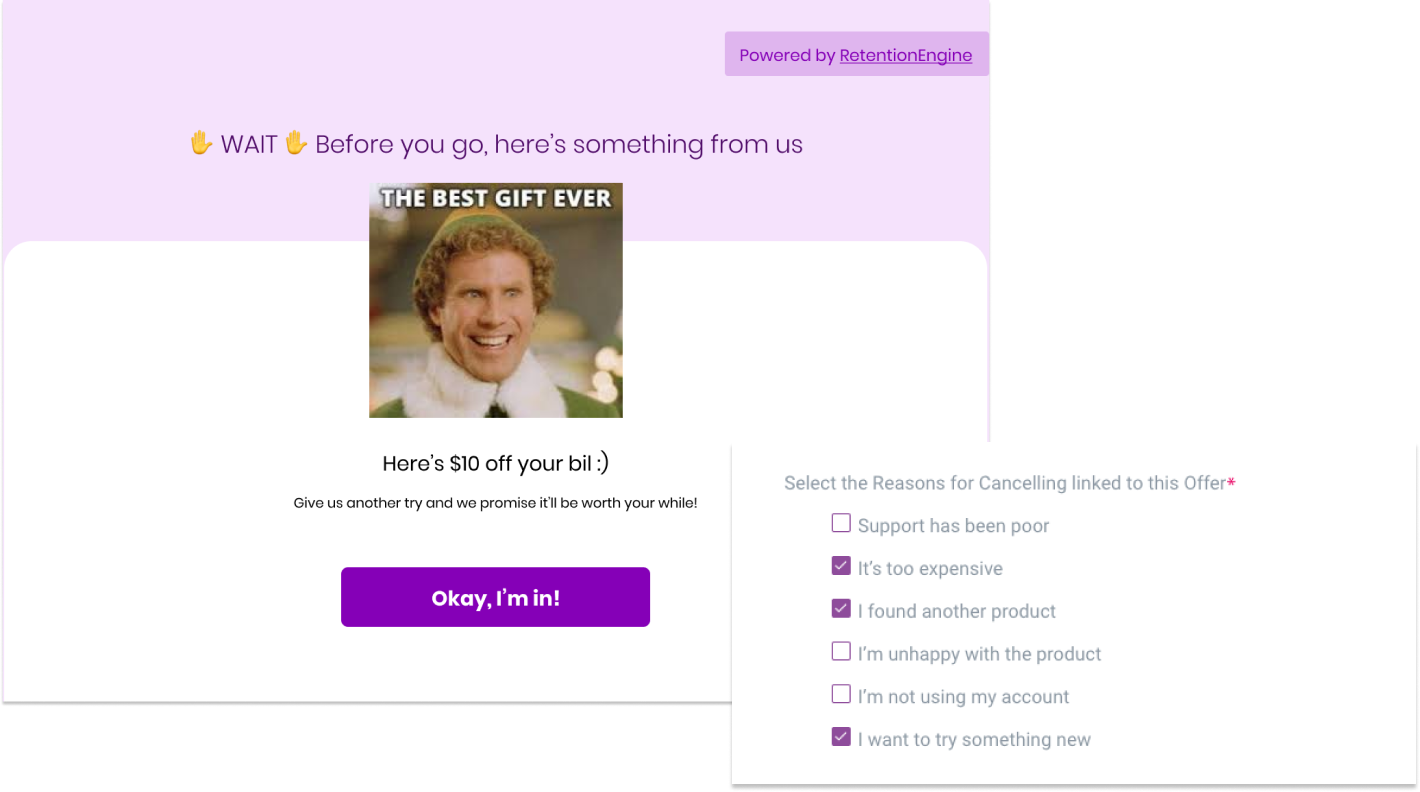 FAQ
Can customers claim discounts and gifts every month?
No. If a customer claims a discount, then they will not be shown any discount cancel resolutions the following month. Read more about our gaming checks here.
Can I limit treatments to certain plans, products, or other customer properties?
Yes! This feature is available on Prime, Premium, and Enterprise plans. Check out more details here.
---
Was this article helpful?
---
What's Next