Cratejoy Coupons
04 Aug 2020

1 Minute to read

Contributors
Cratejoy Coupons
Updated on 04 Aug 2020

1 Minute to read

Contributors
---
Share feedback
Thanks for sharing your feedback!
This article will explain how to create a coupon Cancel Resolution for CrateJoy merchants. Please follow the specific instructions to configure the settings to ensure there are no errors.
We recommend creating specific coupons for the RetentionEngine that are not used elsewhere.
This helps reduce potential errors. For example, if a customer has used a coupon outside of RetentionEngine, our app would have no way of knowing this, which means we we might offer them the same coupon. This could result in an error when the customer tries to claim it a second time.
Step One: Create a coupon in Cratejoy
Heads up -- these are the settings you'll want to prevent close attention to :)
Please match these settings to prevent errors!
Log into your account at my.cratejoy.com. And click on "Coupons".
Create a new coupon.

The Basic Information will not be seen by the customer.
Under Discounts:

You can choose either percentage or flat rate
Do NOT select min. order price
FREE SHIPPING is optional

Under Limitations:

Do not change any of the default settings. (We have checks within the RetentionEngine to ensure coupons are not shown to customers multiple times, and they do not stack coupons.)

Under Reoccurring:

You can edit these as you please.

Under Subscription Products:

Make sure this coupon is applied to EVERY subscription product. The RetentionEngine does not recognize different plans. So, if you restrict this field, then the discount could still be shown to a customer that cannot accept it. It will cause an error and then you will probably have a customer service ticket.
Step Two: Copy the numeric code in the URL tail
Once your coupon has been created and the options are set correctly, then you will copy the numeric code that is in the tail of the URL address of the coupon. We call this the Coupon ID.
Create Cancel Resolution and Paste Coupon ID
In RetentionEngine, create a Coupon Cancel Resolution. Paste the Coupon ID from the last step into the Coupon ID field below. After you've filled out the remaining fields for this Cancel Resolution, you're all set!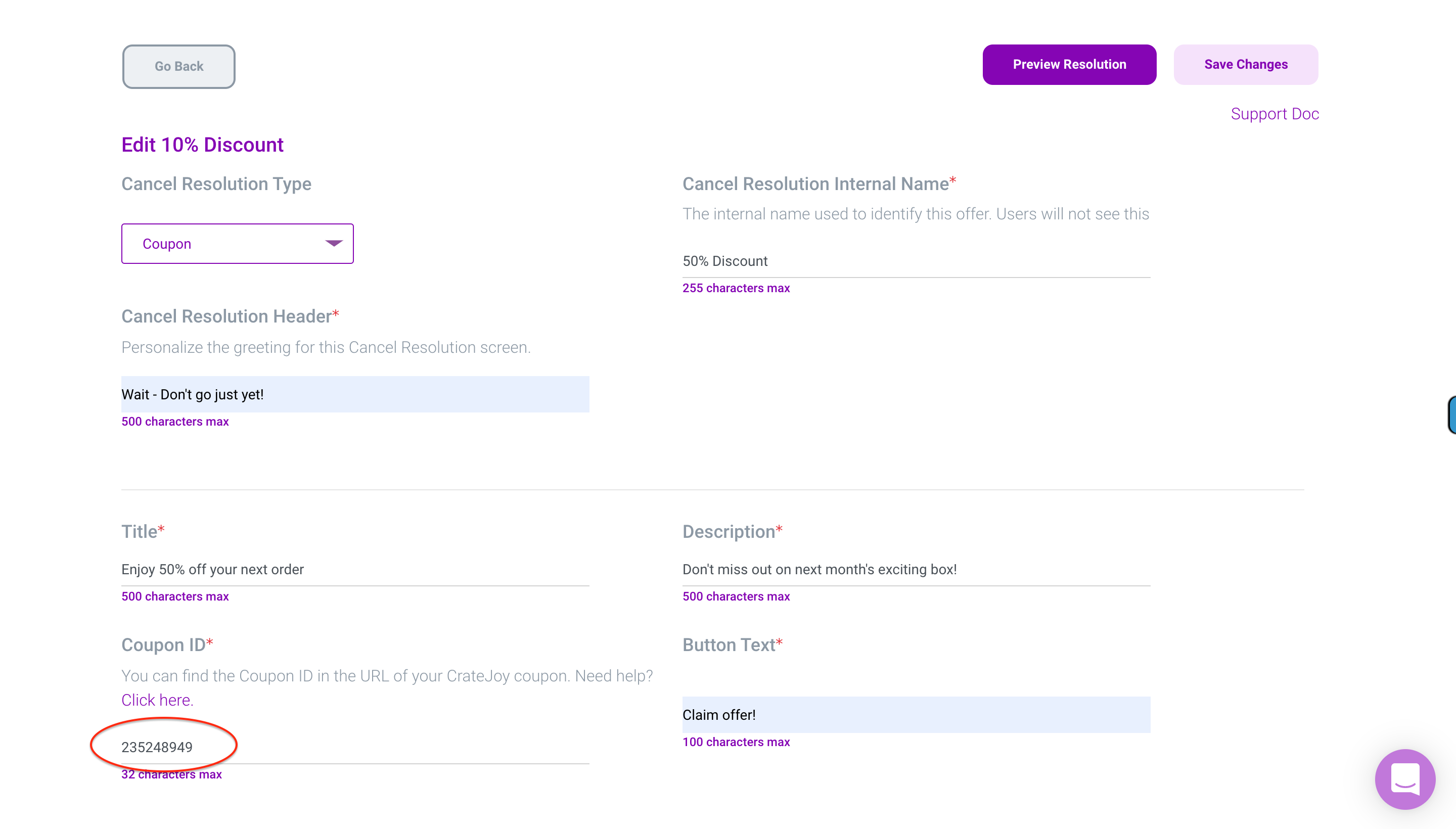 ---
Was this article helpful?
---
What's Next